Indonesian authorities have recently raised the alert for Bali's Mount Agung volcano to the highest-level warning possible after recent eruptions.
Image from: BBC
On Saturday, thick ash started shooting as high as 4,000 meters into the air and as far as 12,000 meters away from Mount Agung, forcing 100,000 people to evacuate from their homes and prompting about 445 flights to be canceled.
Approximately 59,000 domestic and international passengers are stranded in this tourist hotspot.
Image from: News AU
Based on reports, Bali's main airport, Ngurah Rai International Airport, which is about 60 km from the volcano, will be closed until 29th of November 7 a.m. local time.
Some people have stayed put near Mount Agung despite the highest-level warning. Some refused to leave their livestock, meanwhile some still felt somewhat safe.
Nevertheless, according to Indonesian authorities, people who have yet to leave their homes around the rumbling volcano in Bali may be forcibly evicted.
How close is it to a larger eruption?
According to a statement in Indonesia, "The rays of fire are increasingly observed at night. This indicates that the potential for a larger eruption is imminent."
Mark Tingay, a geologist of the University of Adelaide, told BBC that eruptions are "difficult to predict" and "very hard to tell" how the situation will develop.
He believes that Indonesian authorities seem to be "extremely well prepared" as they have had plenty of prior experience with volcanic mountains.
Dangerous rivers of mud, lahars and debris
Regular rain due to rainy season and a mix of rock fragments depositing around the volcano create dangerous fast-flowing rivers.
Lahars, or more commonly known as "cold lava", which are rock fragments mixed with water, have been spotted in the surrounding fields and rivers near the perimeters of the volcano.
Image from: BBC 
Authorities have also widened the exclusion zone to a 10km radius. This is based on the last time Mount Agung erupted in 1963, which killed more than 1,700 people and destroying multiple villages.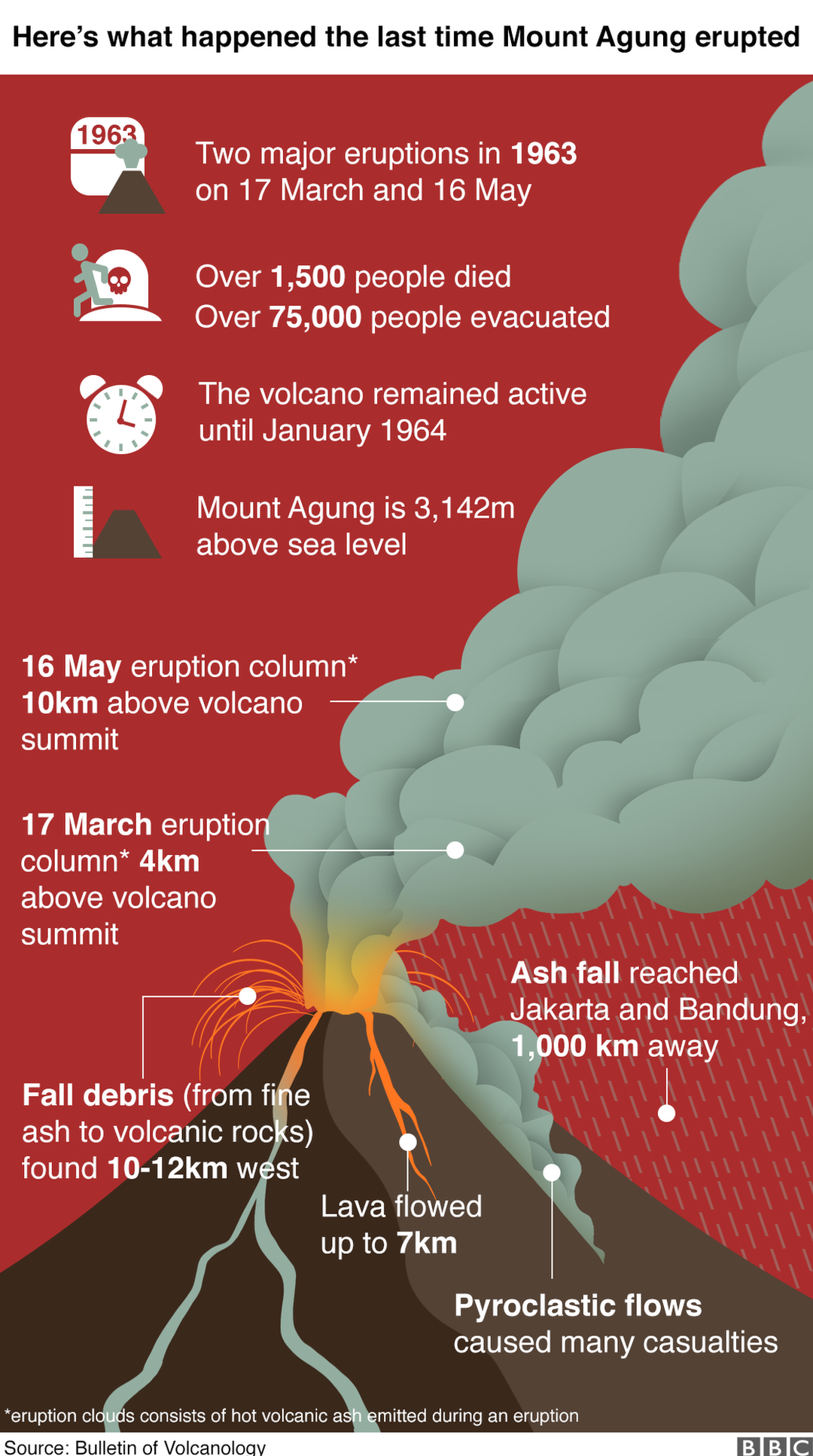 Should tourists be worried?
Main tourist areas like Kuta and Seminyak are in fact about 70km away from the volcano, which is way beyond the exclusion zone. 
Some tourists currently in these tourist areas have also mentioned online,
"I'm currently staying in Seminyak and you wouldn't know all this drama is happening in the north east unless you watched the news."
But the dark gas and ash that have been billowing up to 3,400m above Mount Agung has prompted officials to shut down Bali's Ngurah Rai airport which left travellers stranded.
The Australian Government have issued travel advices:
"Volcanic activity may escalate with little or no notice."
The UK's Foreign Office have also advised travellers to be more prepared for cancelled flights and to closely monitor local media and local authorities' warnings.
Flexiroam would like to caution everyone do be extra careful if you have plans to visit Bali anytime soon.
---
Follow us on:
Facebook: https://www.facebook.com/flexiroam/
Twitter: @flexiroam
Instagram: @flexiroam