The Apple Special Event 2019 took place on 10 September at the Steve Jobs Theatre in Cupertino, CA where it unveiled the new innovations to products such as App Store, Apple TV+, iPad, Apple Watch, iPhone as well as its retail arm, Apple Retail.
iPhone 11
We knew the changes were huge, but we weren't quite prepared for what was about to hit us. Apple CEO Tim Cook began by reiterating how well the iPhone XR performed after its launch thus it made sense to begun working on what is now known as the iPhone 11.
This device runs on the all-new A13 Bionic chip which Apple boasts is the most processor ever in a smartphone.
Design
The iPhone 11 has an aluminum and glass body that makes it incredibly tough. It comes in six colors, including product RED and purple, hot in here or what? Like the iPhone XR, it has a 6.1-inch Liquid Retina Display. Other design elements are Advanced LCD, true tone display, wide color gamut, tap to wake and haptic touch.
Camera
Here's where it gets trippy, Apple has added an extra 12MP lens which is an ultra-wide lens that has 120 degrees field of view, that's an optical zoom out x2! The idea is to capture more without moving, you'll be able to capture those glorious landscape shots now.
iPhone 11's camera takes breath-taking portraits too. It has a new portrait lighting effect (High-Key Mono) which enables you to take studio-quality portraits of your best friends (two or four-legged) as the iPhone 11 comes with stereoscopic depths that encapsulates a great pet moment display.
Click here for some sample shots, you'd want to see them.
No light, no fuss when shooting in low light with Night mode. This cool feature turns on automatically when it's dark enough to brighten photos and reduce noise. So, if you're at a dimly lit restaurant or in a dark alley, Night mode will give you brighter yet incredibly natural shots every time.
Video & Sound
This phone will have 4K video at 60 fps, slo-mo, time-lapse, cinematic video stabilization, extended dynamic range across both cameras. Apple also introduced a new feature called QuickTake which gives us fickle-minded people a great advantage.
You can take several pictures and choose to video them by holding down the button, no switching to video mode for this, just hold and it will record.
Incredibly useful. The iPhone 11 also has slo-mo features in its front camera, it's Apple's first of its kind, enabling the new coined term, SLOFIES! (Self-video is slow-mo)
iPhone 11 features spatial audio, a theatre-like experience creating sound around you. It supports Dolby Atmos for an incredible sound-moving 3D in-action feeling.
There's lots more than the iPhone 11 offers from faster Wi-Fi, Audio Sharing with Airpods as well as Dual SIM with eSIM. eSIM is essential for travelers or business professionals to switch between two numbers with ease.
Try Flexiroam eSIM for a comprehensive and fuss-free data provider experience, find out more here
Here's what the special event had in store for the other products:
iPhone 11 Pro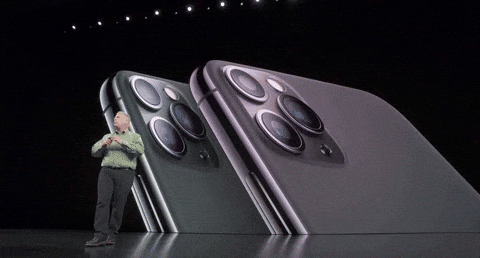 This marks the first iPhone with the word "pro" in it and for good reason, as Apple explains that it is a superlative piece of work. Stainless steel and machine glass design, matte textured finish and 4 colors.
It comes in 5.8 and 6.5-inches, with an OLED panel contrast ratio of 2 million:1. It will put machine learning and low power design at the forefront, getting maximum results with minimum battery drainage.
The camera is a pro camera system consisting of 12MP Wide camera, 12MP Telephoto camera, and 12MP Ultra-wide camera. The amazing quality lies within deep fusion which relates to neural engine. It shoots in 4K, 60 fps, and allows editing features via iOS13 photo app. You can record multiple videos at once too.
Available on 20 September @ $999 iPhone 11 Pro, $1099 for iPhone 11 Pro Max
Apple Arcade
Home to the new Apple Arcade, the first subscription service for mobile, desktop and tv. The arcade tab will have new games added every month and game trailers too. It will personalize recommendations based on your preferred genre and play styles.
Available starting September 19 in 150 countries @ $4.99 (1-month free trial included)
Apple TV+
The mission of Apple TV+ is to bring you the best original stories from the most creative minds in television and film. It aspires to inspire and evoke emotion through impactful stories. Will feature Apple originals such as For All Mankind, Dickinson, The Morning Show and SEE.
Available starting November 1 in 100 countries @ $4.99 (1 year free with any Apple product bought)
iPad
The iPad will run on its own iPad OS which is the same foundation as iOS. It has powerful and intuitive features with over one million apps. This 9.7-inch, 7th generation iPad will have a 10.2-inch retina display with other 3.5 million pixels. Bigger and brighter as the iPad has a 2.5x increase in brightness and 3.7x wider viewing angle.
Because of its A10 fusion chip, the iPad runs faster than the top-selling PC in the US. A smarter Apple pen, smart connector, and a protective cover. More finger-friendly functions introduced to make it extremely functional, especially for multi-tasking. Oh and, its enclosure is made of 100% recycled aluminum. Go, Apple!
Available for pre-order now and will be shipped on September 30 @ $329 and $299 for educational customers.
Apple Watch
The new Apple Watch Series 5 is a ground-breaking health and fitness communication tool on one's wrist. It is making a difference in so many ways around the world, from safety to fitness and everything in between. This new watch will have 3 specific health types of research to enhance its capabilities, namely:
 

Apple Hearing Study
How your daily sound exposure impacts your long-term hearing health.
 

Apple's Women Health Study
Tracking menstrual cycles to inform the screening of important conditions like infertility and osteoporosis,
 

Apple Heart & Movement Study
      How metrics from Apple Watch can service early warning signs and help create innovative interventions to improve overall health.
It will have a new built-in compass as well, showing your longitude, latitude and include. Design-wise, there will be a series of designs from Nike and Hermes for greater fashion appeal.
Available September 20 @ $399 and $499 for cellular models. Series 3 will be kept and starting at $199.
Apple Retail
Apple stores will bring you a more unique shopping experience starting with personalization. They will launch Apple Watch Studio for Apple Watch Series 5 users (both in-store and online) with over 1000 ways to mix and match your preferred case and bands. Secondly, Apple has introduced Apple Trade-in whereby your current iPhone can function as credit towards a new iPhone.
CEO Tim Cook ended the event by reinforcing the power of well-designed products in the hands of people. He believes that wonderful things can be done with the right innovative tools created by Apple. 
Watch again the 2019 Apple KeyNote below:
---
Visit our website: https://www.flexiroam.com/
Follow us on:
Facebook: https://www.facebook.com/flexiroam/
Twitter: @flexiroam
Instagram: @flexiroam
Related Posts
97

Apple has invited worldwide press for an event set to take place on 10 September at Cupertino, California. It's quite certain that this will be the launch of the all-new…

83

In a research note with TF International Securities, viewed by MacRumors, Kuo said Apple instead aims to offset the cost of 5G by reducing its supply chain expenses, potentially including…