By: Saniah Ansari
Krabi is a coastal province located in southern Thailand. Famous for its stark limestone mountains, sandy beaches, delectable food and convenient transportation.
Koh Hong, also known as Hong Islands, is a series of four connected islands off the coast of Krabi. Only a twenty-minute journey on a speedboat from Ao Nang, Koh Hong is the ultimate tropical vacation you can imagine.
A day trip to Koh Hong describes relaxation: it's peaceful, secluded and quiet. Belonging to the Than Bok Khorani National Park, this stunning four-island archipelago has a mesmerizing backdrop of Phang Nga Bay.
The islands have rightfully earned their title as some of the most beautiful in Thailand. These islands are secluded, so you'll be able to enjoy complete privacy. The crystal clear water, sandy beaches, and soak in the sun away from crowds of tourists so you can relax. Hong Islands are only open for day visits, so no overnight stays allowed.
Most tour companies usually include Koh Hong in their Krabi island trips packages, so they include lunch and a kayaking option. If an organized group tour is not for you, there's also a private tour option. You can hire a long-tail boat which can accommodate up to 6 people. Still, these don't include lunch options, snorkelling gear or kayaking options.
The four island tour consists of Hong Island, Hong Island Lagoon and the islands of Koh Pak Bia and Koh Lao Lading. The prices of these tours range from 800 – 3000 baht per person, depending on whether you take the trip with a speedboat or a long-tail boat. There are multiple stations and travel groups, so this will allow you to purchase these tours from them. You can find information at hotel lobbies, airport stands and even small booths on the beaches itself.

Most tour packages start at the dawn of daylight to avoid the low tide in the afternoon. Most tour packages will make arrangements for you to be picked up from your accommodation to the pier, and the transfer back as well.
Hong Island
First stop – Hong Island! The boat ride to Hong Island is only about 20 minutes with a speedboat. At the arrival on Hong Island, you will have to pay an additional fee for the national park. This fee is 200 baht per person, but most travel packages have this included in their prices. Being part of the National Park, hence it gives you a chance to see pristine natural scenery. The fantastic beach of Hong Island is separated by a massive rock into two parts. You're welcomed by spectacular limestone cliffs at the floating pier which will lead you to the beach.
Clear, white, fine sand endorsed the beach surrounded by pristine clear water where you can see plenty of colourful fish – literal paradise. Snorkelling equipment along with a life jacket is provided by the tour packages. Schools of fishes are nonchalantly swimming around – even close to the shore. The water is generally shallow, and the tide isn't too powerful, so it's excellent for casual swimmers.
With waters so clear, a large species of fish will be keeping you company regardless if you decide to snorkel, swim or just lounge at the shore. Opposite the huge rock, which separates both of the beaches, they've set up small shops where you can purchase some water, beer or other drinks. The prices are obviously much higher than the mainland, but a refreshing drink while lounging in paradise is a must.
Hong Lagoon
Before the next stop to the beach, the driver made another stop at the back of Hong Islands, where you discover a gorgeous blue lagoon. This lagoon is what puts Koh Hong on top of many visitors lists. The spectacular rock formation and the astounding natural lagoon is a feast to the eyes. The entrance to the lagoon is narrow and entirely surrounded by limestone cliffs.
The channel width is about 10m, perfect for a speedboat or a long-tail boat. The tours will usually stop here for 15 means, and allow passengers to go for a swim or snorkel at the lagoon amongst the islands abundant marine life. A turquoise blue lagoon sits serenely amid cliffs and shores just waiting for you to splash and bask in the sun.
Pakbia Island
The next destination on this tour is Pakbia Island. Around the time you visit this island, it'll already be low tide, which reveals impressive sandbars. Lunch is available at this location by the beach. Lunch is usually in a buffet style and the beach, the water and the sky are the top things about the lunch, aside from the food.
The duration at this stop is 50 mins, which gives you ample time to walk around the beach past lunch. Because of the low tide, you're able to view the sandbar and walk across it with the illusion you're walking on water.
Paradise Island
The last destination on this island hopping tour is Koh Lahding or Paradise Island. It consists of a beautiful sandy cove. In the past, tourists were not allowed on Koh Lahding island as it was a swallow nest collectors camp with people living there, but now they have opened it up.
Paradise Island got its name because of the beautiful emerald hue water and flawless beaches. You're able to even see the coral reef if you decide to go snorkelling. This is an ideal location to swim and relax on the beaches.
Roam freely in Thailand with FLEXIROAM!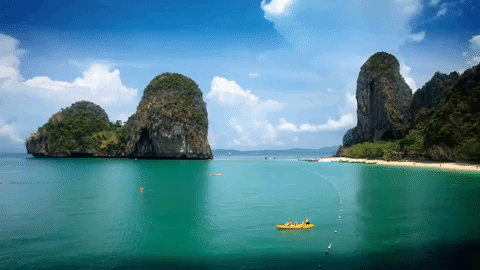 Plan your trip now! Don't forget to bring your swimsuits, sunblock cream, sunglasses and your FLEXIROAM Data Plan! Stay connected in the middle of a paradise with Thailand Data Plan, starts from $0.25 per day.
Save yourself from expensive data roaming or inconvenience of pocket wifi, as well as queuing to get SIM Cards!
CLICK HERE FOR THAILAND DATA PLAN!
Stay tuned for more travel tips from Flexiroam!
Related Posts